4240 Balmoral Drive SW Ste. 200, Huntsville, AL 35801
My PrevCare Plan
Because reliable preventative care doesn't have to be complicated.
At Life Dental Group, we understand that there is comfort in knowing you will receive quality dental care at an affordable cost. That is why we created the My PrevCare Plan which covers a wide range of routine dental procedures, all for a low monthly payment. Choose between our Silver, Gold or Platinum plan. As a member of our plan, you will receive consistent, top quality dental care which helps to prevent the chance of needing major dental work in the future – and all for a fraction of the cost!

Plan Advantages:
Low Cost
No Deductibles
No Annual Maximum on Preventative and Cosmetic Care
Orthodontics Services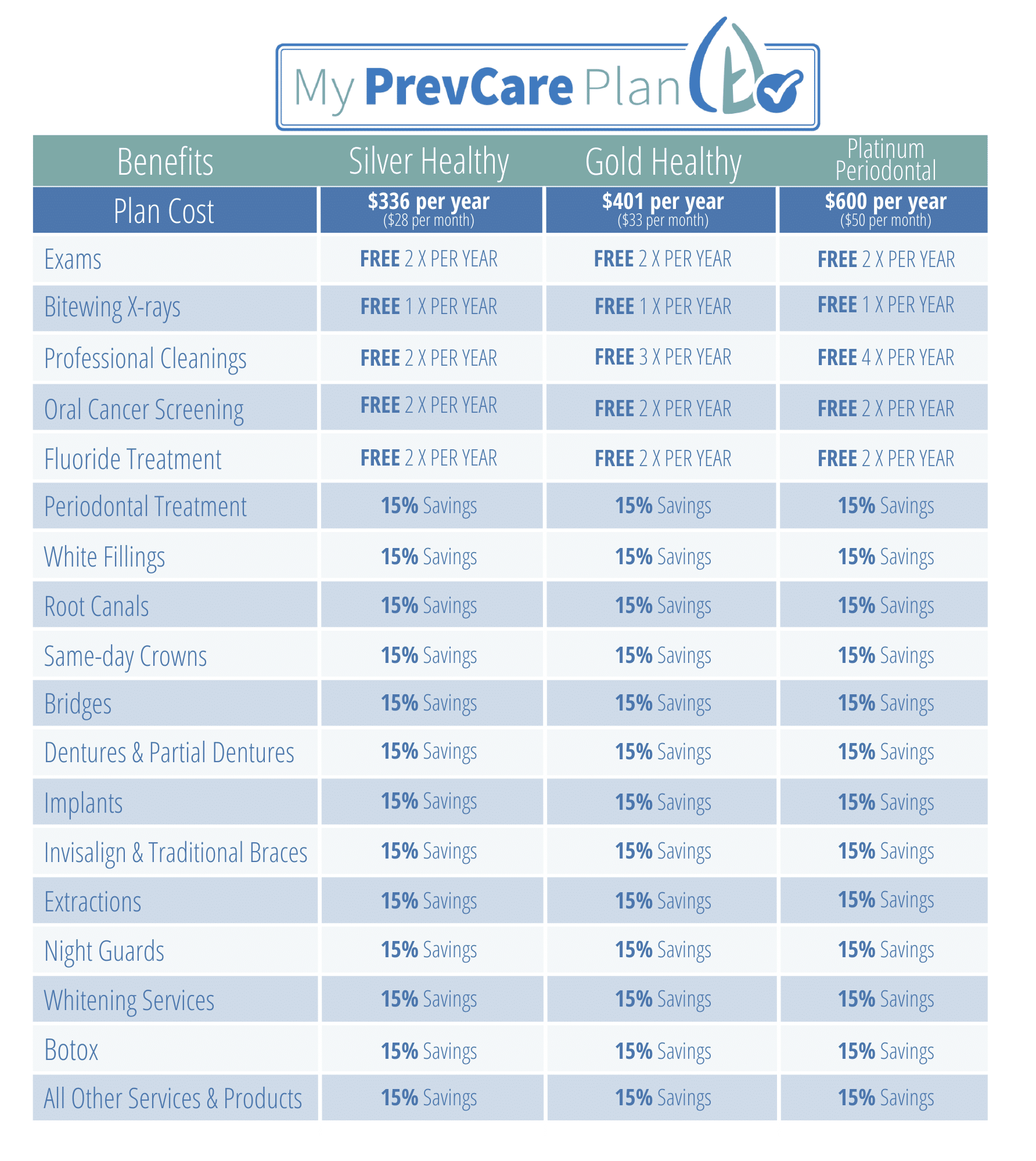 WHAT OUR PATIENTS ARE SAYING
Always a Five-Star experience! The entire staff & physicians are very pleasant & extremely professional. They take the time to explain the procedure & let you know what the cost is prior to preforming any services. The office is immaculate & the front desk extremely proficient. If you do not have a dentist I highly recommend Huntsville Dental.
It was my first time going to Huntsville Dental . the ladies at the front desk was very nice and helpful. I didn't have a long wait before they called me back . the dental hygienist and the doctor was great . definitely would tell other people to come here. overall experience in my opinion . absolutely wonderful
The staff at Huntsville Dental is so wonderful! They make you feel right at home and provide great care. From the front desk, to the staff in the back and the doctors...everyone is so wonderful and welcoming!
I love visiting this dentist! With every procedure I have, whether it's a cleaning or something more invasive, I never have to wait long to be seen or taken care of. The hygienists are always polite and courteous, and the dentist is just as polite and thorough with her work! Two thumbs up every time!
Dr. Denny and her team are awesome. I was a patient of Dr. Murphree before he retired, but he has left me in good hands.
Staff was awesome in helping me feel at home. They have a very clean and cheerful environment. recommend for anyone looking for a new dentist who is moving to Huntsville or if you need a new location close to the arsenal gate1.
I did an extensive google search to find a woman owned/woman ran dental practice. This is the one! Everyone was so nice and I felt very comfortable, despite my nerves. It had been a few years since I had seen a dentist. 😬 But they walked me through the new patient process and I left feeling confident about my dental health. Big THANKS to the woman at Huntsville Dental ❤️
Best Dentist in Huntsville. Dr.Denney is knowledgeable, skilled, has a great staff, top technology, knows who and when to refer you if needed & provides great customer service. Highly recommend. They can take care of all your family's dentistry needs.
Efficient front of house staff. Less than 5 minute wait. Thorough exam. Kind and patient technician. Honest and empathetic doctor. All in all, not horrible which is honestly the highest compliment I can give a dental experience. 👍