Dr. Huggins grew up playing any sport that had a ball attached to it. Shortly after finishing undergraduate school at Ole Miss, he began working with children at North Mississippi Regional Center. He graduated from the University of Mississippi Dental School in 1994 and began working as a dentist in Oxford. Dr. Huggins most enjoys performing cosmetic makeovers including Invisalign, veneers, and implants. He looks forward to watching his patient's faces light up when they see their new smile for the first time. He is also ecstatic to now offer Healthy Start at Life Dental to help children who suffer from symptoms of sleep disordered breathing including bed-wetting, snoring, ADD/ADHD, and mouth breathing.
His wife, and best friend, Ashley is from Jackson, MS and together they enjoy spending as much time as possible with their children Lyla and Hayes. Next to dentistry and his family, Dr. Huggins's passion is hunting whitetail deer and turkey.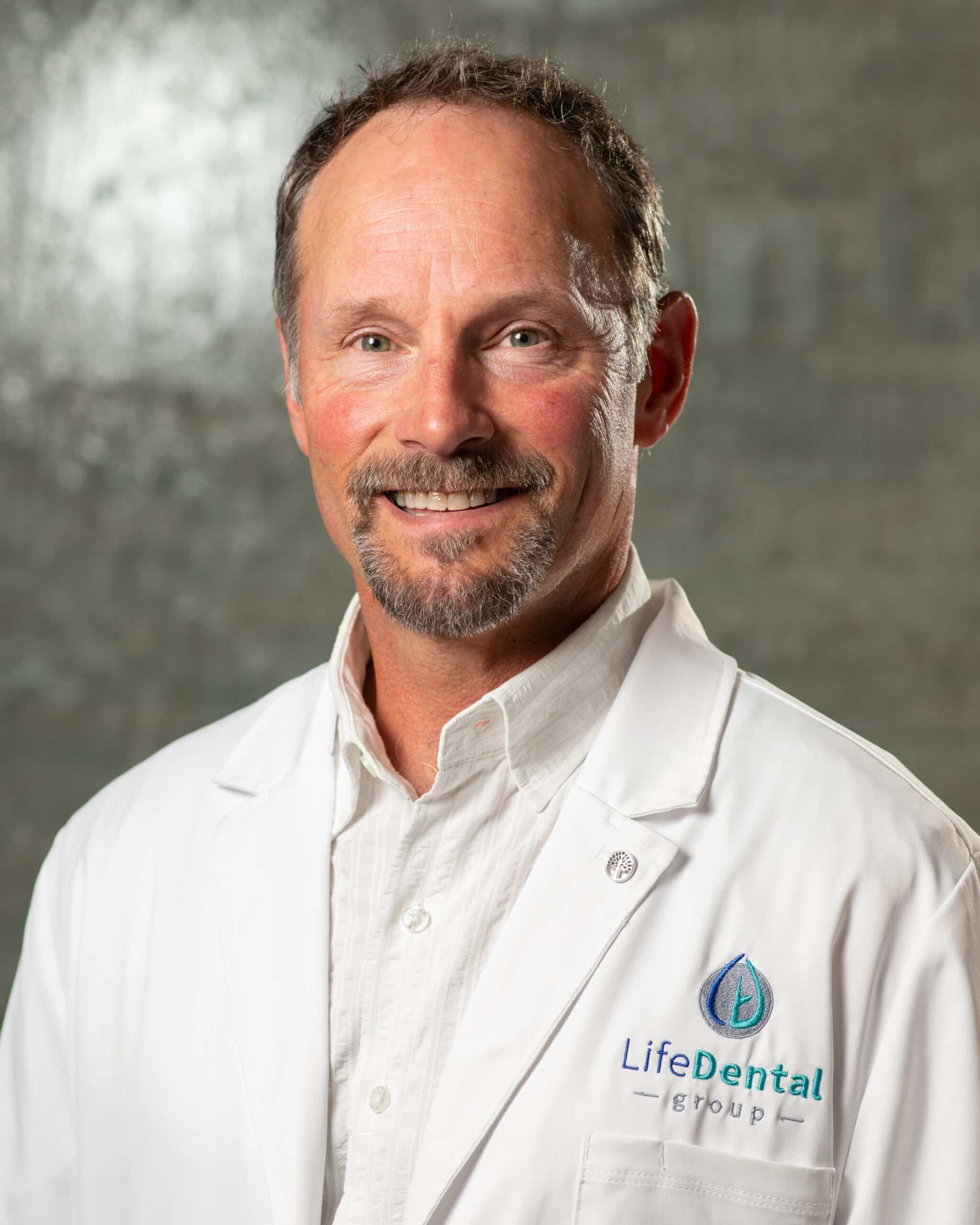 I've been seeing Dr. Huggins for several years and always have a consistently great experience. He, and his team, has taken care of me through chips, crowns, Invisalign, and more. Couldn't be happier with Life Dental!
Love Dr. Huggins. He's been taking care of my family's dental care for 20 years. Can't believe I came in for a crown prep and left with my new crown in one visit. The technology at his new office is amazing.
Dr. Huggins and Dr. Rayburn are the best! So kind, thoughtful, efficient and knowledgeable. Their staff is fantastic and the office is beautiful!
Been going to Dr. Huggins for over 20 years! he's the absolute best. Super friendly, his staff is friendly and its such a good environment!
Such an amazing team that did such an outstanding job on me. I would recommend Dr. Huggins any day and he is still very much so gifted✨ with an awesome personality/bedside manners. If I could give more stars ⭐️ I would lol😭..Thank you guys for everything; you have saved the day🙌🏾 yet again God bless❤️
Very clean and comfortable environment . Entire staff is great and I do mean ENTIRE STAFF.
Dr Huggins is an excellent dentist . Don't go anywhere else , trust me !!
Dr. Huggins has been patient and thorough with my treatment. He takes the time to answer my questions and discuss my options without making me feel rushed or pressured. I feel so much more confident with my smile now! Mitzi Lane is the BEST Dental Hygienist. She always has such a calming presence and is not only professional, but also friendly and welcoming each time I visit.
I've been a patient of Dr Huggins for many years. He and all the staff are always friendly and professional. I recently had a filling done, with almost no pain. It was done quickly, and the staff made every effort to keep me comfortable.
Dr Huggins is the best dentist I've ever had. He is careful, thoughtful and easy to talk to. He's been so good to me that I've brought my teenage son to him now too! Highly recommend!
Dr Huggins has been my Dentist for over 20 years and it is most amazing to see him create my crown the same day with precision. Commonly called the One day crown technique, no temps no waiting, it's all done in one.Dr Huggins is the crown laboratory , immediate and precise and his needles are painless. The entire atmosphere of this dentistry is quite inviting and comfortable . Great staff that's well organized and pleasant as well.
Everyone is awesome. Dr Huggins and Chianne were very patient, kind and did an excellent job! Linda is always so nice when I check out, as well as, the front receptionist when checking in. I would highly recommend this clinic, as I have already done so many times .
Ask us about Affordable Dental Care Financing
Life Dental offers dental care maintenance and financial plans at a variety of monthly payment levels. With these flexible options and savings at 15%, 20% and 100%, quality dental care is both attainable and affordable at all our locations.
WE WORK WITH ALMOST ALL MAJOR INSURANCE COMPANIES.