My PrevCare Plan
Because reliable preventative care doesn't have to be complicated.
At Life Dental Group, we understand that there is comfort in knowing you will receive quality dental care at an affordable cost. That is why we created the My PrevCare Plan which covers a wide range of routine dental procedures, all for a low monthly payment. Choose between our Silver, Gold or Platinum plan. As a member of our plan, you will receive consistent, top quality dental care which helps to prevent the chance of needing major dental work in the future – and all for a fraction of the cost!

Plan Advantages:
Low Cost
No Deductibles
No Annual Maximum on Preventative and Cosmetic Care
Orthodontics Services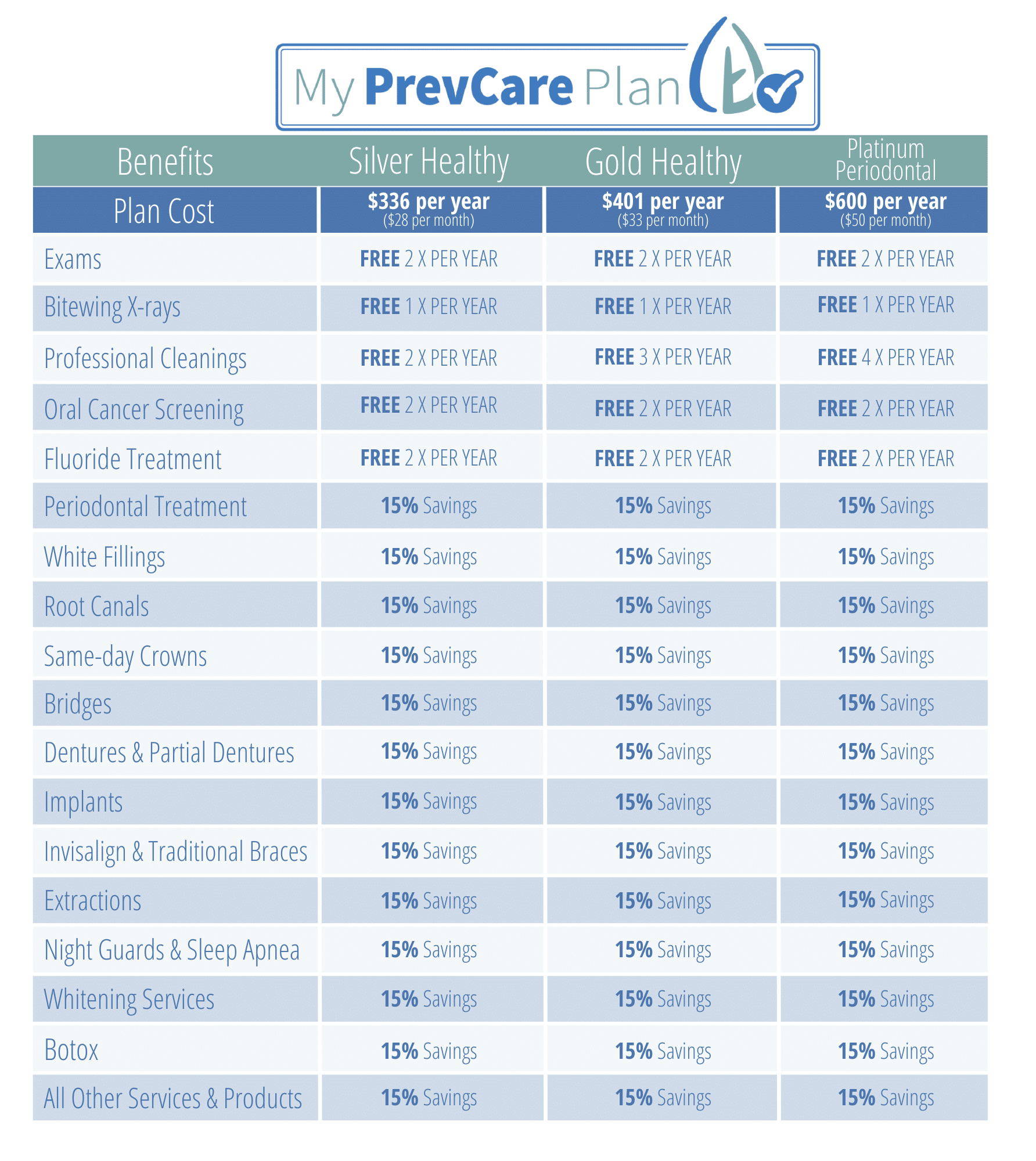 WHAT OUR PATIENTS ARE SAYING
Rachel was extremely awesome and very friendly. She was thorough with my exam as well as explaining what was going on. Dr. Williams (I believe that was his name) gave me multiple options that showed his level of care. The atmosphere here was so peaceful, positive, and inviting. I've definitely found my new dentist office.
I've been here multiple times. Always great staff and hospitality. They make you feel welcomed as soon as you turn the door knob to go in!
I'm horrible with dentist but they make sure you're calm and they talk you through every process. They stop often to give breaks which is amazing.
I moved 4 hours away recently but always drive back here for them to do my work. Love these folks!
The staff is always so friendly and professional. My hygienist is the best! It makes going to the dentist a pleasure. I can't say enough good things about Premier Dental. I'm extremely satisfied.
Awesome crew at premier dental! Friendly faces and clean spaces! These guys and girls go the extra mile to make your experience a pleasant one! Will definitely recommend….
My 4 year old loves going to the dentist because of how fun they make it for her! So convenient and can always get you in if needed! Smiling faces and friendly attitudes go such a long way.
Haven't had dental work in quite some time and was a bit apprehensive to seek care. The whole experience at Premier was fantastic! I can't say enough about how comfortable I felt throughout. I'd recommend them to anyone no matter the time it's been since your last check up!
Awesome and friendly staff. Very knowledgable and helpful. I usually am very anxious about the dentist but my experience here was very nice. Will be a repeat customer!
The atmosphere of the place is very friendly, the doctor was very clear and concise with what needed to be done. The vist was quick as well; overall 10/10 would get teeth checked there again.
Hi Rachel did amazing job..she explained everything so well. She also would keep her hands clean .she knows how to treat people.. she's super nice
The absolute best dental experience I've ever had. Sweetest hygienists and assistants! Front office personnel were extremely helpful and kind. Never once made me feel badly for letting so many years pass without seeking dental care. My dental office anxieties were put to ease with this lovely group.