1763 Cliff Gookin Blvd Tupelo, MS 38801 
My PrevCare Plan
Because reliable preventative care doesn't have to be complicated.
At Life Dental Group, we understand that there is comfort in knowing you will receive quality dental care at an affordable cost. That is why we created the My PrevCare Plan which covers a wide range of routine dental procedures, all for a low monthly payment. Choose between our Silver, Gold or Platinum plan. As a member of our plan, you will receive consistent, top quality dental care which helps to prevent the chance of needing major dental work in the future – and all for a fraction of the cost!

Plan Advantages:
Low Cost
No Deductibles
No Annual Maximum on Preventative and Cosmetic Care
Orthodontics Services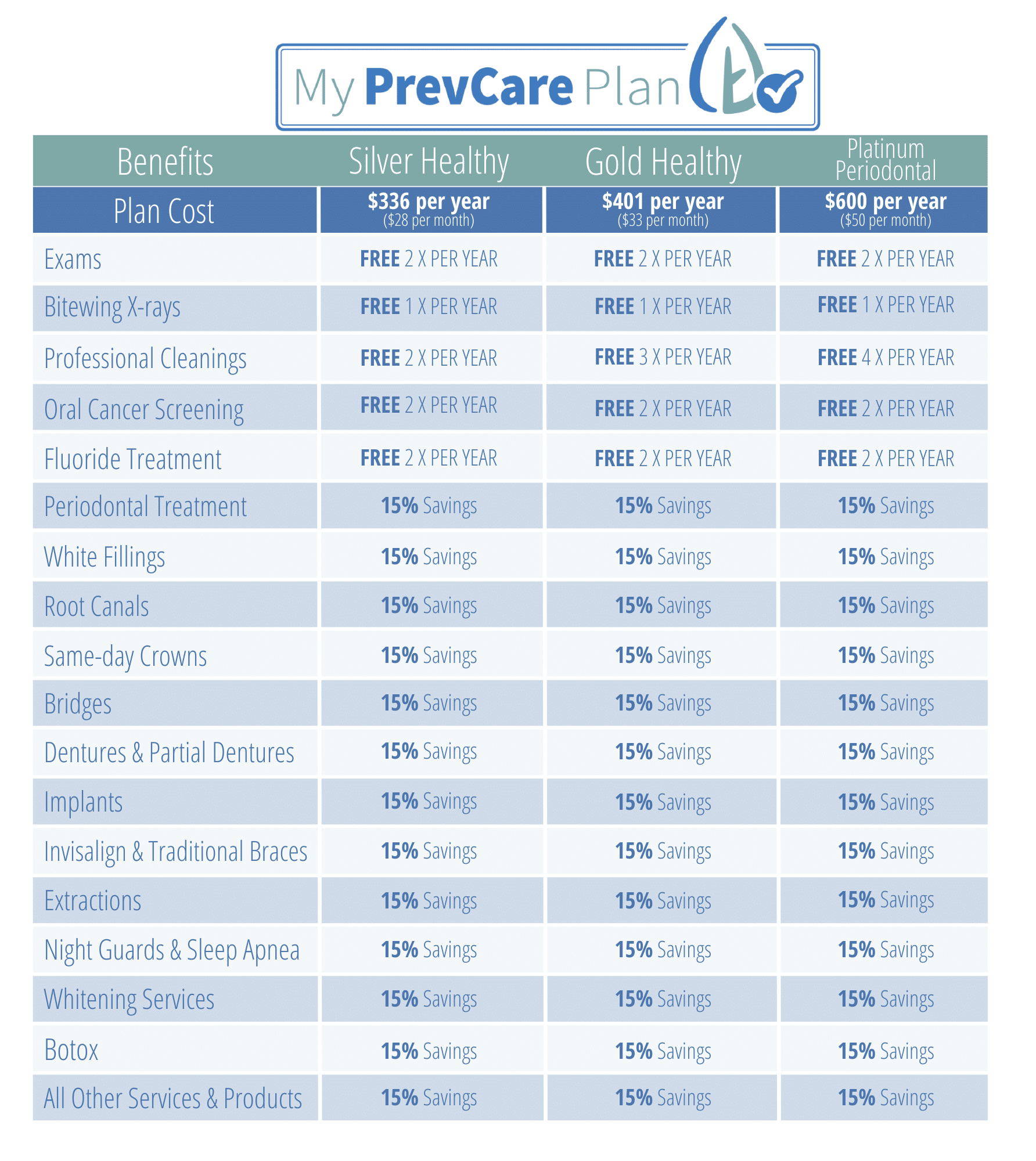 WHAT OUR PATIENTS ARE SAYING
Shyan, Lisa, and D.M.D. Huggins are the best!!! I've been with D.M.D. Huggins going on 7 years now, followed him from Oxford Dental. That's how amazing he is and his genuine care for his patients are unthought of. You're missing out if you're not coming to Life Dental!!!!!!!!
Dr. Rayburn was wonderful and I will always use life dental!
Staff very conscious, considerate how you feel . Wanting you so be comfortable. I had never been to a Dentist at all . I was comfortable in the environment quickly . Even though nervous. Any pain for me was little and bearable. Very nice people.
Went there for X-rays, teeth cleaning, and wisdom tooth extraction. Everybody was nice and caring. They did a great job from start to finish. The technology they use is state of the art. Best dental visit I have had.
Shout out to Dr. Huggins at Life Dental of Oxford. He is by far the best dentist in the world!!! I give this awesome down to earth Dr. A 10000000000/100!!! If you have a fear of dental appointments, fear no more!!! Dr. Huggins is the way to go any day of the week. Not only is Dr. Huggins great, his staff is wonderful as well!! Thank you Dr. Huggins and Life Dental of Oxford for making things so easy and painless!!👍👍👍👍👍
Dr. Wooten first saw me under somewhat emergency conditions. He happily worked me in and was extremely kind and efficient! His entire staff was warm and welcoming. I immediately felt that I had made the right choice in coming to him. I highly recommend this dentist!
A beautiful/clean atmosphere AND the staff is THE BEST. They are so nice and helpful! I love Life Dental ❤️
Such an amazing team that did such an outstanding job on me. I would recommend Dr. Huggins any day and he is still very much so gifted✨ with an awesome personality/bedside manners. If I could give more stars ⭐️ I would lol😭..Thank you guys for everything; you have saved the day🙌🏾 yet again God bless❤️
Dr. Huggins and Dr. Rayburn are the best! So kind, thoughtful, efficient and knowledgeable. Their staff is fantastic and the office is beautiful!
Very clean and comfortable environment . Entire staff is great and I do mean ENTIRE STAFF.
Dr Huggins is an excellent dentist . Don't go anywhere else , trust me !!
Dr Nobile, Delayne and all other staff at Life Dental are friendly and knowledgeable. Today was my first time there and they made me feel like I had been a patient forever. Clean environment, up to date equipment and smiles everywhere. ⭐️⭐️⭐️⭐️⭐️
Very clean aesthetic I worried my kids would be too loud and obnoxious. But the staff was great and I'll definitely schedule my own appointment separate so I can pretend it really is a spa (cause it looks/feels that way)
I am a new patient at Life Dental. Ashley in billing was so much help and Dr. Rayburn is amazing! So thankful to finally have a dentist in Oxford I love.
Always a great visit with Avery. Very attentive to my comfort, explains exactly what she is doing and why, Almost makes going to dentist a pleasure ☺️
My 4 year old loves going to the dentist because of how fun they make it for her! So convenient and can always get you in if needed! Smiling faces and friendly attitudes go such a long way.
Been going to Dr. Huggins for over 20 years! he's the absolute best. Super friendly, his staff is friendly and its such a good environment!
The staff is always so friendly and helpful; other dental offices have left me feeling anxious and embarrassed, but Dr. Nobile and the rest of the staff are very patient, understanding, and nonjudgmental. They are always more than willing to help me figure out a plan that works best for me financially, especially as a college student, and I never feel like they are just trying to get as much of my money as they can, like other places do.
Awesome and friendly staff. Very knowledgable and helpful. I usually am very anxious about the dentist but my experience here was very nice. Will be a repeat customer!
The atmosphere of the place is very friendly, the doctor was very clear and concise with what needed to be done. The vist was quick as well; overall 10/10 would get teeth checked there again.
I've been here multiple times. Always great staff and hospitality. They make you feel welcomed as soon as you turn the door knob to go in!
I'm horrible with dentist but they make sure you're calm and they talk you through every process. They stop often to give breaks which is amazing.
I moved 4 hours away recently but always drive back here for them to do my work. Love these folks!
The absolute best dental experience I've ever had. Sweetest hygienists and assistants! Front office personnel were extremely helpful and kind. Never once made me feel badly for letting so many years pass without seeking dental care. My dental office anxieties were put to ease with this lovely group.