2496 Rocky Ridge Rd. Vestavia Hills, AL 35243
Samantha Schultz is a dedicated and skilled Registered Dental Hygienist at Vestavia Dental. With a passion for oral health and patient care, she plays a vital role in promoting optimal dental hygiene and overall well-being. Samantha's journey in the dental field reflects her commitment to helping patients achieve and maintain their best smiles. Her extensive training and experience in dental hygiene enable her to provide thorough cleanings, comprehensive oral assessments, and personalized hygiene education. With a warm and friendly demeanor, Samantha creates a comfortable and supportive environment for her patients, fostering open communication and building strong relationships.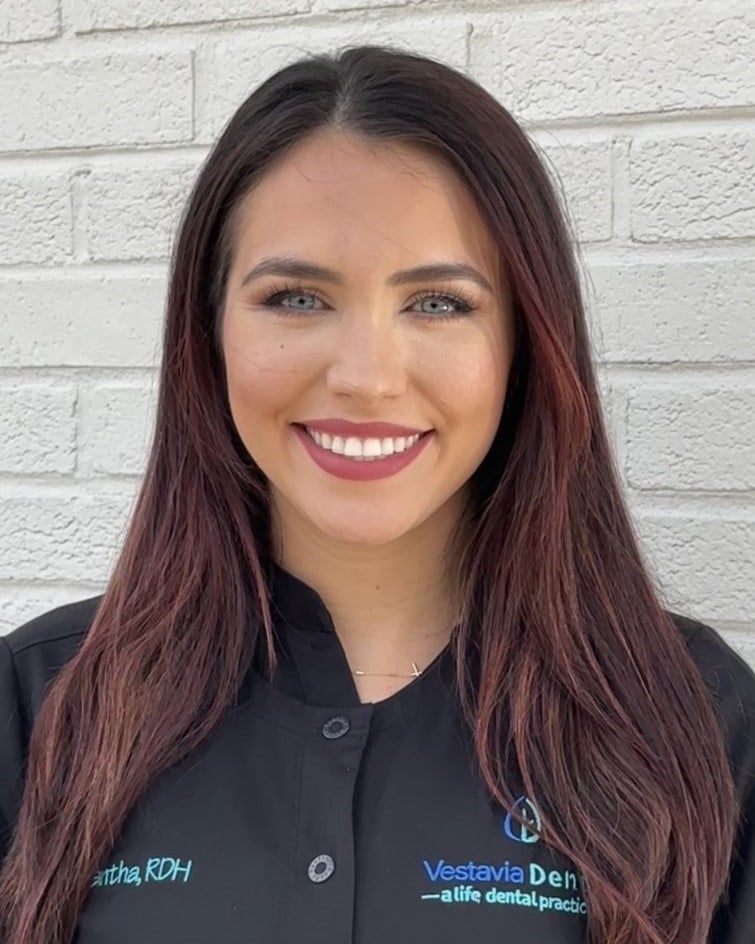 Samantha dose a very great job at cleaning my teeth .will definitely recommend her thank you
Friendly and professional! My hygienist, Samantha made me feel comfortable while explaining everything as she was working which made me feel more comfortable.
I'm always nervous about going to the dental office. Everyone here is professional and friendly.
My hygienist, Samantha, took the time to make me feel comfortable and helped calm my nerves. She was gentle and effective with cleaning my teeth
They have the absolute best dental hygienist her name is Samantha Schultz!
Great people, great company.
The staff there is very friendly, Samantha was extremely kind and caring, she made sure we were very well taken care of.
Samantha is absolutely incredible. Very profession and sweet. Made me feel very welcomed and comfortable. Highly recommend.
This lady knows what she is doing. Samantha is the sweetest dental hygienist to see. She is guaranteed to have you going out of the office with a grin after getting such top-quality teeth services! I can't thank her enough for helping me and my smile.
Samantha was great when cleaning my teeth. She let me know everything I needed to know. I am so glad I chose to go here.
My experience with Vestavia Dental was a great one! My hygienist Samantha was lovely! She made me feel completely comfortable and took wonderful care of me. Dr Parham had a calming energy and was very knowledgeable. I was definitely happy with my choice to try Vestavia Dental and will continue getting treated there.
I have only wonderful things to say about this practice. Everyone is so friendly and professional. Scheduling appointments is a breeze, and they always get me in and out QUICKLY. I typically dread dental appointments, but I have honestly enjoyed every visit to this practice. Highly recommend!
I was a new patient today. I have never had such an enjoyable dentist visit before. The staff was awesome and attentive from the receptionist to the Dentist himself. They gave me a goodie bag and treated me like family. I highly recommend!
Went to Vestavia Dental as a first time patient today. I've never enjoyed the dentist but they did a FANTASTIC JOB. the facility was very nice and clean and the staff was incredibly welcoming. Ann Marie was assigned to me for my dental work and did a tremendous job. would highly recommend using Vestavia Dental!
The staff are very nice and friendly. The lady who cleaned my teeth and took my x-rays was very friendly also. They give out nice goodie bags to new patients as well.
Ask us about Affordable Dental Care Financing
Life Dental offers dental care maintenance and financial plans at a variety of monthly payment levels. With these flexible options and savings at 15%, 20% and 100%, quality dental care is both attainable and affordable at all our locations.
WE WORK WITH ALMOST ALL MAJOR INSURANCE COMPANIES.