611 Leigh Drive, Columbus, MS 39705
Dr. Chance Crites is a passionate and skilled dentist at Bright Smiles Dental in MS. His dedication to oral health and patient care shines through in his commitment to delivering exceptional dental services. With expertise in a wide range of procedures, including preventive, restorative, and cosmetic treatments, Dr. Crites ensures that each patient receives personalized care tailored to their unique needs. His warm and approachable demeanor, combined with his clinical proficiency, makes him a valued partner in achieving and maintaining optimal dental health.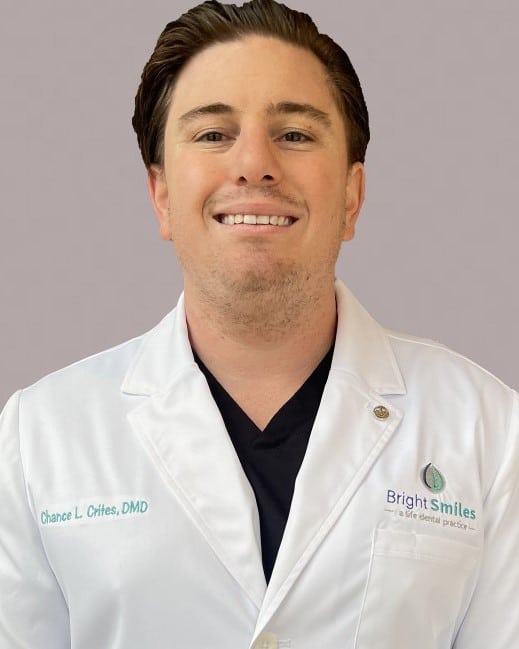 I LITERALLY enjoyed myself as well as enjoyed the staff. They were extremely helpful and kind and quick as well as knowledgeable about my condition. It was my first time and they treated me as if I was ROYALTY😩🧡💯. I left there with gifts they had given me encouraging me to come back and I will tell EVERYONE I know about BRIGHT SMILES because they didn't have to do any work on me for my SMILE to be as BRIGHT as it was before I left; they're CUSTOMER SERVICE was ENOUGH 💜💛💙🧡❤💚💞💯💯💯💪🏾

Today was my first visit with Bright Smiles Columbus Ms..I was welcomed from the time I entered the establishment..I was greeted with a smile.. everyone was so nice and spoke with kind words..my procedure was professionally done..I experienced no pain..the dental assistant and the dentist made sure I was very comfortable..I had a filling done and 2 extractions..my overall experience was absolutely wonderful and I will recommend this facility to many.. thank you so much for being patient and caring..♥️♥️

Great place they make you feel right at home and very comfortable

I have been continually impressed with Dr. Fincher's heart for the immigrant community in Columbus. I have seen him go above and beyond with numerous people, and there are no words to express our appreciation. Jessica and Jasmine were incredibly helpful and compassionate the last time I was in with a family. Thank you so much to all of you!!
Ask us about Affordable Dental Care Financing
Life Dental offers dental care maintenance and financial plans at a variety of monthly payment levels. With these flexible options and savings at 15%, 20% and 100%, quality dental care is both attainable and affordable at all our locations.
WE WORK WITH ALMOST ALL MAJOR INSURANCE COMPANIES.